Q. Can HR select the checks on the dashboard before initiating the case?



Yes, HR can select the preferred package and add any specific checks for each candidate.
Here's how:
Step 2: Select Packages and Add-on checks
When you click on "Next", you'll be directed to the "Choose a verification package" screen, where you can select from the package options that you opted for while onboarding with us.
Please note: Only the packages with credits will show in this list. So if any package option has no credits, it will not be available during this step. Please ensure you have credits in your packages to be able to select here.
In case you need to add on specific checks apart from what's available in the package opted, you can choose the check you want to add from the "Add-on" option after selecting the package.
Please note: These "Add-on" checks will be charged additionally over and above the package cost. You will be able to see the cost next to each Add-on check. You will also be able to see the total cost of verification for that candidate, including the add-on check on the right of the screen.
---
Q. How is your data secured?



SpringVerify uses the following services to secure your data:
1. ISO27001- Data Security and Privacy Framework
2. AWS - Amazon Web Services - GDPR Compliant
---
Q. Can we add candidates in bulk on SpringVerify?



If you have opted for volumes of verifications, then yes, it's possible. The bulk upload feature will be made available to you by our team upon request. However, the number of candidates depends on the package chosen by you initially.
Here is how you add candidates in bulk on SpringVerify:
Step 1: Select your account icon from the top right corner and select "Bulk Candidate Addition" from the list.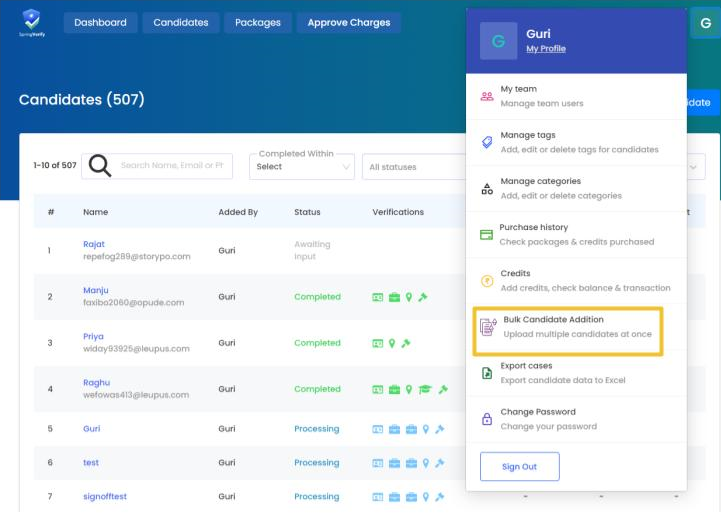 Step 2: Download a CSV from your HRMS/ATS and directly upload it to SpringVerify. No need to follow any rigid header format. Just specify which columns match our data type.
Step 3: Our system auto-cleans the data and points out any errors it identifies. You can then edit to make necessary changes wherever necessary and proceed to submit. AI at its best!
---

Q. What happens if we give the wrong email ID while adding a candidate?

An error will indicate the wrong email in the "

Candidates

" tab, and an email will be sent out to the admin who is accessing the portal.
---
This will help us do an instant employment check. In a typical employment check, our ops team will reach out to the previous company's HR via email. There will be instances where the company might have shut down, leading to us closing the report as "Unable to Verify"(UTV). In this case, we are unable to give a definitive report if it is Green or Red. This is where the UAN check helps. If the company has been registered with EPFO in the past, our systems can run a check in their databases and get the following information:
Company Name

Date of 1st deposit into the PF account

Date of last deposit, with this, we are able to confirm the duration of the employment.



---

Q. Why can we not verify the current employment?

The check goes on hold when the candidate clicks on "I currently work here" while entering the duration of employment because:
HRs don't comment on their current employee unless they are completely out of their system.

Most of the candidates would not specify the reason for leaving, which would negatively affect them.



---

Q. Why do we ask for HR information & Manager information in the employment check? Is it mandatory?

Only the Name is mandatory. We use this info as a guideline. Finding smaller organizations' POC (Point Of Contact) is extremely difficult. So, this information helps us in reaching out to the POC and verify the candidate faster. But, we do not completely rely on this information itself. Manager information is mostly used in the case of reference checks.
---