How do I remove Trivia from a Slack Channel?
Steps
to remove Trivia from your Slack Channel:
Open the

channel info


Click on

Integrations


Click on the App and select the option

Remove Trivia from the Channel


You are all set 🎉
---

Pictorial Representations
for the above steps:


---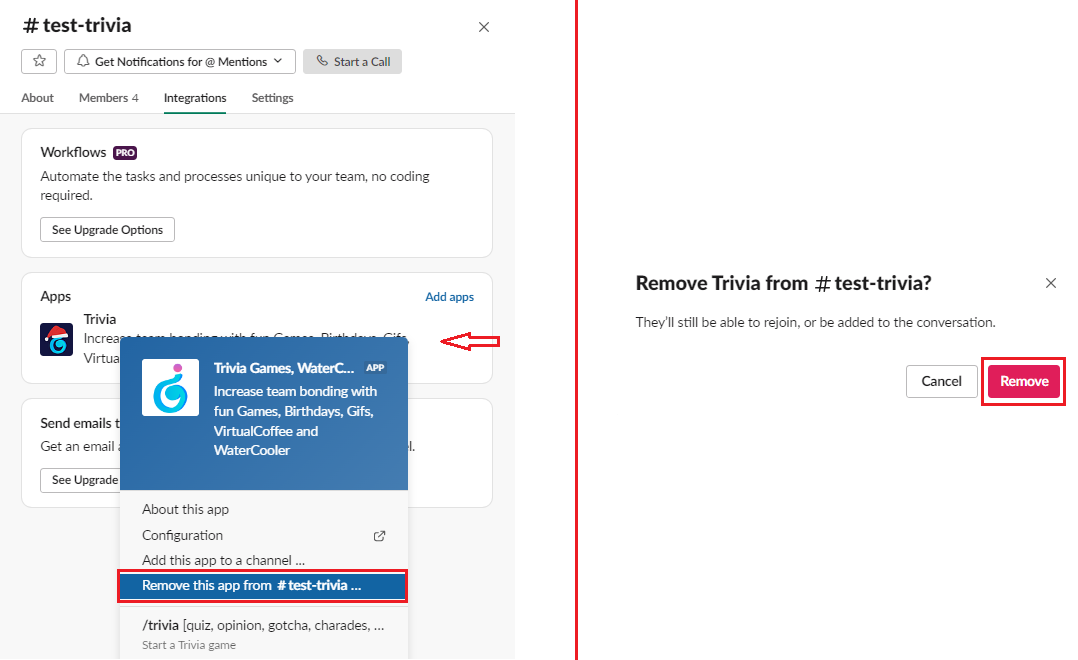 ---
Related Articles

Does Trivia work in a Slack connect channel?

Trivia does not work in the Slack connect channels. Also, you can not find the Slack connect channel in the dropdown menu of Trivia while you try launching the Trivia game from the Slack connect channel. FAQ on Trivia - Slack connect channel: Can ...

How do I remove Trivia from my Slack workspace?

Remove the Trivia app from your workspace Who can use this feature according to Slack? By default, all members except for guests Permissions Workspace owners can choose to restrict who can install and remove apps and integrations. If you can't see ...

How do I add the Trivia App to a Slack Channel?

Here is a quick Video Walkthrough: You can add the Trivia to your Slack Channel through Slash Command. You can add the Trivia to your Slack Channel through Slash Command. Type the following command at your message box /invite @trivia. Please select ...

Can I play Trivia with my teammates on a private channel?

Yes, You can play Trivia with your teammates in a Private Slack channel. To play Trivia in your Private Slack channel, you need to add Trivia to the channel. To add Trivia to your Private Slack channel there are two methods. Listing them below and ...

How to Manage Trivia Automations on Slack?

Here are the steps to manage your Trivia Automations: Open the Trivia app Click on Games below the Home Tab Click on Automate Games Click on the three dots (...) beside the channel where you want to manage automation. You get to see two options to ...