How do I remove Trivia from a Slack Channel?
Here are the steps
to remove Trivia from your Slack Channel:
---
Choose the Channel from which you would like to remove Trivia.

Open the channel info as highlighted below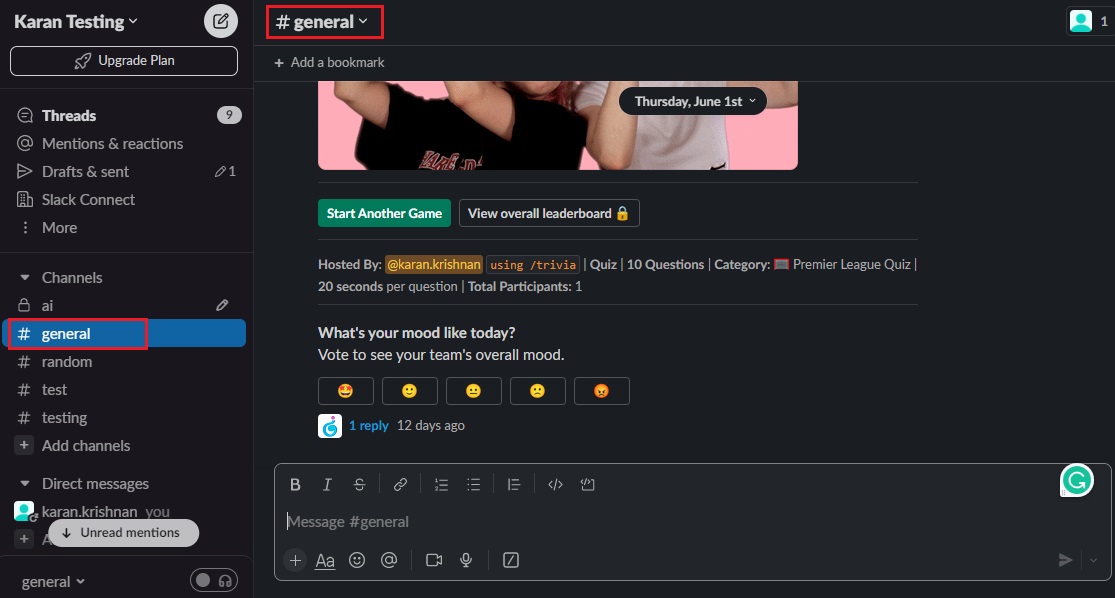 ---
Click on Integrations, then under apps Click on Trivia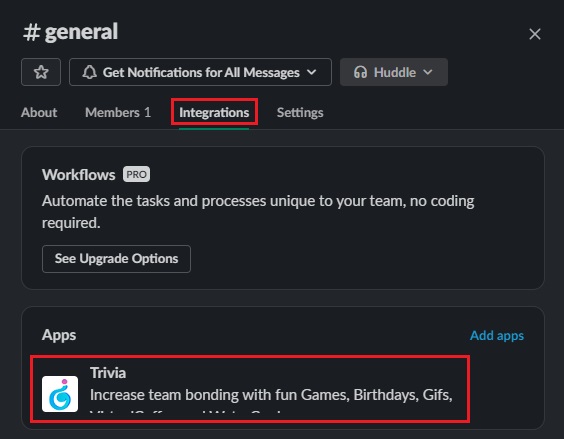 ---
You should see the following pop-up. Click on Remove this App.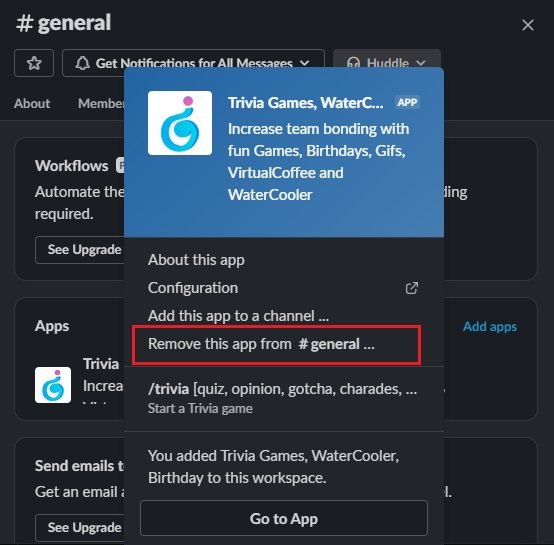 ---
Click on Remove to confirm

---
You are all Set!

Related Articles

Does Trivia work in a Slack connect channel?

Trivia does not work in the Slack connect channels. Also, you can not find the Slack connect channel in the dropdown menu of Trivia while you try launching the Trivia game from the Slack connect channel. FAQ on Trivia - Slack connect channel: Can ...

Manage Trivia Admins for Slack

You can manage Trivia admins by following these steps on your Trivia Dashboard: Open the Dashboard and log in with your Slack account. Navigate to the settings page in the top right corner. Under 'Add Admin,' use the search bar to find the member you ...

How do I add the Trivia App to a Slack Channel?

Here are the steps to add Trivia to a Slack Channel: Type the following command in your message box /invite & click on Add apps to this channel In the apps page, search for Trivia and click on Add You are all set ? Trivia has been successfully added ...

How to Manage Trivia Automations on Slack?

NOTE: You need Admin access to perform this action. Here's a quick video Tutorial : Here are the steps to manage your Trivia Automation: Open the Trivia app on Slack Click on Games below the Home Tab Click on Automate Games Choose the automation you ...

How can I play Trivia with my teammates on a private channel?

To play Trivia in your Private Slack channel, you need to first add Trivia to the channel. To add Trivia to your Private Slack channel there are two methods. Listing them below and you can choose the easiest. Methods to add Trivia: Slack Slash ...