How do I set up rewards & recognition based on my budget?
Based on the allocated budget for your employee recognition and rewards programs, you can establish limitations for EngageWith points.
EngageWith points serve as the internal currency within the system and are utilized when expressing appreciation to others.
---
Each user possesses two categories of points within their EngageWith account:

Points available for recognizing to others.

Points received from others by getting recognized.
---
The quantity of points transferred between users hinges on the type of recognition, whether it's a "kudos" or a "shoutout." The specific values for these types can be configured by an EngageWith administrator within the
Rewards Configuration
section of the EngageWith Dashboard.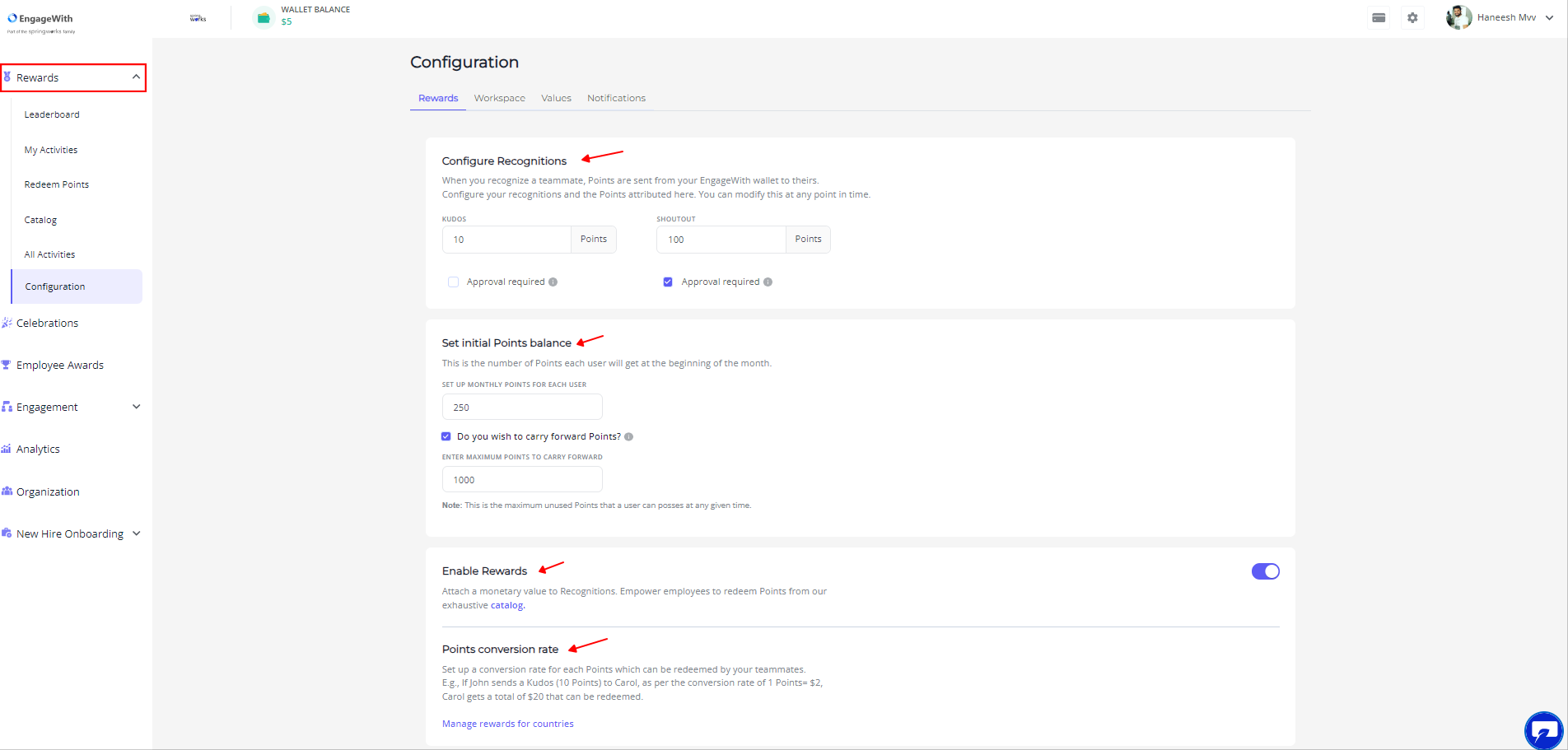 ---
Furthermore, the EngageWith administrator is responsible for determining the exchange rate for points within the Rewards settings Section.

To align your budget with EngageWith, administrators have the capability to designate the quantity of points allocated to users on a monthly, quarterly, or annual basis. This measure guarantees that transactions remain within the confines of your budget.

---
Related Articles

How to Set up EngageWith on Slack?

Schedule a call with our Product Specialists to install and set up EngageWith. In case you have any further inquiries following the call, you can refer to the steps below to set up EngageWith on Slack. Introduction: This article provides a simple ...

How do I set up rewards & recognition based on my budget?

Based on the budget that you've set for your employee recognition and rewards initiatives, you can set limits for EngageWtih points. Points are the currency that flows within EngageWith. They're sent while appreciating someone. Each user has 2 sets ...

How do I set up EngageWith?

To get started, click on Add to Teams on our Home Page. The next step is granting permission to access resources in your organization. This access is necessary for EngageWith to integrate with your Microsoft Teams organization. These permissions can ...

Adding EngageWith to a Slack Channel

➕ Create a Slack channel We recommend creating a new Slack channel to send/receive recognitions within your workspace. ⏬ Add EngageWith ? Why Add EngageWith to a Channel? Adding EngageWith to a channel is crucial as it enables your users to engage ...

How to Enable/Disable Approvals for Recognition on EngageWith for Slack?

Recognition can be sent upon approval using EngageWith. Here are the steps to set up an approval: Sign in to your EngageWith Dashboard using your Slack account. Click on Configurations under Rewards You will get to see the option to Configure ...